TPM
Milestone on the journey of Manufacturing Excellence
NS-SUS had adopted suggestion system, Quality Circles (QCC Activity) and TQM Concept from Year 1999 until 2003. However, machine breakdown and quality problems were increased significantly in 2004. Then top management decided to adopt TPM to improve the operation and TPM kick-off ceremony was held on May 12, 2005.
TPM History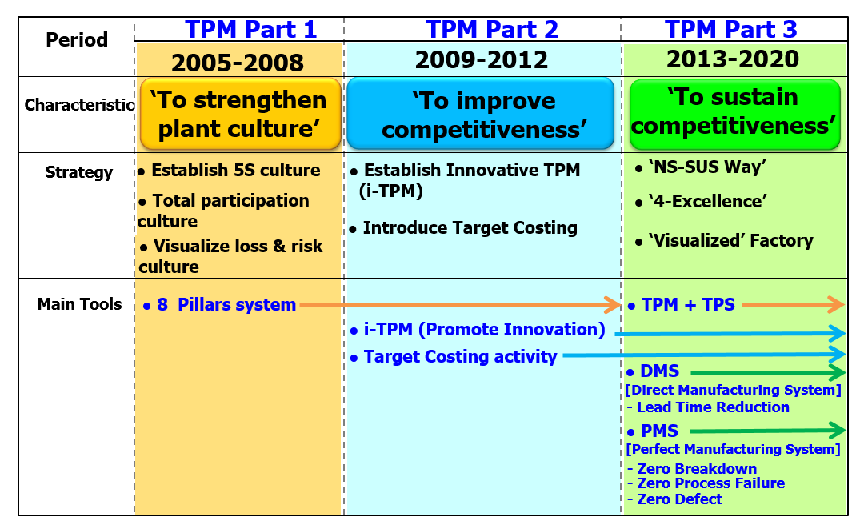 The pursue our company's vision 'Asia No.1 Competitive Mill', we defined our strategic concept as 'NS-SUS Way' as followings.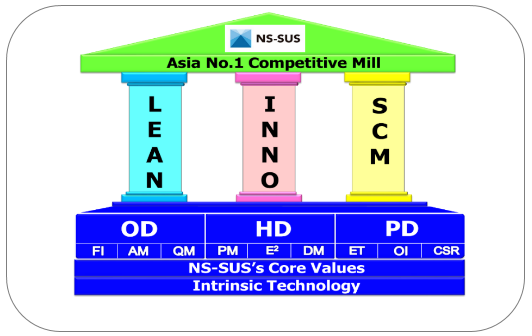 NS-SUS received Special Award for TPM Achievement 2012 from The Japan Institute of Plant Maintenance (JIPM)

Benefits Achieved
TPM has been integrated and helped improving our existing management system of quality, safety and environment. This excellent integrated management system has led our company achieved high level of stake holders satisfaction, outstanding safety records, improved company's competitiveness.
Further Benefits
1. Motivate staff to participate and support continuously each other as 'NS-SUS Team' to achieve challenge targets of

'Zero Accident', 'Zero Defect' and 'Zero Breakdown'.
2. Enhance knowledge and skill of staff for machine basic operation, maintenance technique and problem solving analysis.
3. Create safe, efficient and happy workplace.
4. Harmonize working atmosphere among staff.
We confidently brief that such excellent methodology of TPM could bring our company to achieve vision of Asia No.1 Competitive Mill.

Key of our Manufacturing Excellence
1. Strong commitment and support by top management to enhance stake holders satisfaction by improving safety, quality and social responsibility towards world class level.
2. Collaboration among highly motivated staff and customers through supply chain management.
3. Strong and crucial human resources development policy.
4. Fundamental sophisticated production technology including intrinsic knowledge and know-how transferred from Nippon Steel & Sumitomo Metal Corporation, Japan.