Safety Management System

Safety Management System
In accordance with the Management System for Quality, Safety, Occupational Health, Environment and Energy Saving, the company has prescribed the Policy as follows; "We commit to manufacture and provide services of Quality Cold Rolled Steel, with full commitment on Safety, Occupational Health, Environment and Energy Saving in compliance with relevant regulatory requirements and continuously improve the management system to enhance customer satisfaction"
Safety Management : NS-SUS has various safety promotion activities which can be classified into 2 types as below.
---
1. Proactive Activities : These activities encourage safety by A-S-K (Awareness, Skill, Knowledge) concept for employees, so they can forecast and beware themselves from possible accident. Examples of activities are Unsafe Killer, Safety Kaizen, Safety Pokayoke, Video Safety Training, Risk Assessment, Toolbox Meeting with Risk Assessment, '6No' Activity, Danger Sensing Training Center, Risk Visualization etc.
Unsafe Killer is safety kaizen suggested by employees who eliminated unsafe conditions or unsafe acts.
Safety Kaizen is safety improvement developed from unsafe killer report for continuous improvement.
Safety Pokayoke Besides Kaizen concept, we have also promoted Pokayoke or foolproof kaizen to prevent human error.
Video Safety Training
4.1 KY Video NS-SUS has applied KY (Kiken Yoshi) Video activities since 2009, for job safety analysis to encourage employees to analyze their jobs and find out risky points and countermeasures effectively. This video is taken by operators and used for training to operators and sharing to other departments which have similar jobs.
4.2 WI Video is work instruction showing step of operation via video for training new operators or rotated employees.
Risk Assessment have established since Year 2007 based on TIS/ OHSAS 18001 to find out the possible risk through all areas and all working activities
Toolbox Meeting with Risk AssessmentToolbox Meeting is meeting at work site before starting work among involved operators and Toolbox Leader. This activity makes operators to understand step of works clearly and safety such as basic safety rules, working methods and conditions that may be causing the accident.
'6No' Activity (No Touch, No Up, No Down, No Fire, No Shock and No Fall)To eliminate risk from 6 Activities/ Events might be caused to injury or accident from those activities/ events such as No touch, we promoted to eliminate risk of hand injury caused from direct touching by hand.
Danger Sensing Training CenterTo enhance safety awareness, skill and knowledge of people by providing them the experiences with real sense of danger by "Danger Sensing Demonstration Kits". We established safety training center for training all employees and contractors.
Risk Visualization is activity to visualize risk to be easily visual and quickly understanding, may be picture, sketch and short words. We establish format guideline for Visualized S-Point and Visualized Risk Point.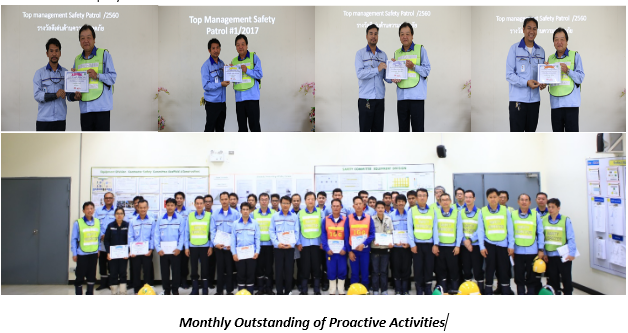 2. Preventive Activities : These activities focus on preventive measures after accident happened in order to prevent repeated accident such as accident investigation and analysis, health service.
Accident investigation and analysis with why-why analysis technique was introduced in order to help preventing further repeated accident.
Safety Record Board : To show the current accumulated safety record compared with target.
Occupational Health : Health Services and Ambulance are provided in case of injury accident.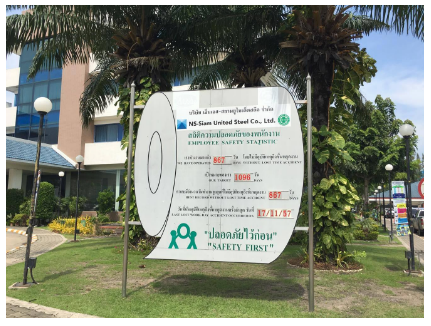 Safety Record Board